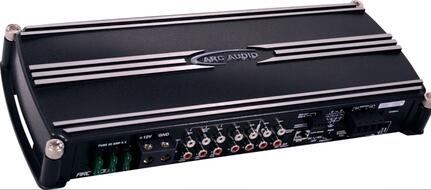 ARC AUDIO ARC 1000.2
6.379,00 kr.
Varenummer: arc 1000.2
2- Channels @ 4 Ohms
500 Watts
2-Channels @ 2 Ohms
600 Watts
1-Channel @ 1 Ohms (Bridged)
1200 Watts
2-Channel @ 2-Ohms (Bridged)
Not Recommended
Frequency Response
5Hz - 30kHz
Analog Crossovers Included
Yes
Crossover Range
50Hz - 500Hz
Crossover Types
HP/LP/AP on all channels
Bass Boost
Variable 0-12 dB @ 45Hz
Remote Level Control Included
No
IPS 8.8 Compatible (Low)
Yes (Sold Separately)
Input Sensitivity (Low)
200mV - 4V
Input Sensitivity (Speaker Level w/pigtails) (Sold Separately)
400mV - 8V
Input Sensitivity (Speaker Level w/IPS8.8) (Sold Separately)
500mV - 32V
Fuse
3 x 30 Amp
Dimensions
15 3/8"(L) x 6 3/8"(W) x 2 1/4"(H)
MODELFOTO AF SAMME MODEL MED DSP
The new ARC Series of amplifiers are the most technically advanced and best-equipped amplifiers ARC Audio has produced to date. Featuring the latest designs from Robert Zeff, the three new ARC Series amplifiers represent a bold step forward in how consumers and retailers perceive mobile amplification.
The ARC Series Amplifier Family includes three primary 1000 watt foundation models sharing a common high-pressure die-cast aluminum heat sink with a rough-grain black anodized finish and CNC-machined accents. The amplifiers feature integrated mounting feet in the corners of the heat sink and include plastic hex-head trim caps for a finished look once installed.
Known for their computer-controlled forced induction cooling solutions, the new ARC amps draw cool air in through vents at the ends of the heat sink. That cool air passes over the power supply switching and output devices and is exhausted through an opening on the front edge of the amp. The onboard micro-controller controls the cooling fan speed to keep the amp quiet.
All three ARC Series amps produce roughly 1000 watts of power. The ARC 1000.2 is a two-channel amp rated to produce 500 watts per channel or a single 1000-watt channel into a 4-Ohm load. A pair of ARC 1000.2 amps can be strapped together to produce 2000 watts into a 2-Ohm load. All amplifiers feature fully balanced differential inputs to reject common electrical noise and allow for connectivity to OEM amplifiers. Speaker level input adapter plugs attenuate the signal from a factory amp by to simplify OEM integration. Each pair of channels has an adjustable sensitivity control. Multi-channel amps include a source selection switch to negate the need for Y-Cables. All three amplifiers include dual DC offset and signal detection remote turn-on detection circuits.
Low-impedance filter chokes on the amplifier power connections reduce RF noise by preventing power supply switching artifacts from being radiated by the power wires. Ultra-low ESR capacitors before and after the power supply ensure smooth power delivery under even the most demanding of musical passages. The astute among you may notice that each amp includes a micro-USB port. This port provides access to the amp's micro-controller. Top panel illumination color adjustment, strapping configuration, remote output delay timing and system firmware upgrades are all configurable using ARC Audio's new IPS 8.8 Software Suite and a Windows-based PC. Robert Zeff and his design team have developed a truly revolutionary power supply and Class-D switching device control solution for the ARC Series amplifiers. In the unlikely event that the master clock and output switching frequency of an ARC Series amplifier interferes with radio reception, keyless entry systems or causes beat frequencies with another amplifier; the installer can adjust the Master Clock frequency of the power supply and output circuits within the IPS8.8 Software Suite. This is all courtesy of ARC Audios new TAMB technology (Patent Pending)that is equipped on all ARC Series amplifiers.
ARC Audio designed the ARC Series for optimum use with premium source units that include crossovers or in DSP controlled systems. As such, these don't include any crossovers. The ARC 1000.2 includes an active crossover adjustable from 50 to 500 Hz. The three pairs of outputs next to the RCA inputs provide full range, high-pass, and low-pass outputs to drive additional channels of amplification. Another way the new ARC Series amplifiers set themselves further apart from the competition is their compatibility with the brand new ARC Audio IPS 8.8 DSP Module. By removing eight screws on the bottom of any of the amplifiers, the 8-channel IPS 8.8 DSP (Sold separately) module replaces the analog input board that comes with the amp. With dual signal mixers, advanced crossovers, precise signal delay, 248 bands of equalization and full compatibility with the ADS Maestro AR amplifier replacement modules (Sold Separately); the IPS 8.8 establishes a new benchmark for mobile signal processing, OEM integration flexibility, and precision system tuning capabilities.
The ARC Series amplifiers produce massive amounts of power from a compact 15-3/8" by 6-3/8" by 2-1/4" footprints. Their simple and elegant cosmetic design, amazing sonic transparency and efficient performance make them perfect for integration into almost any audio system. One their own, or when combined with the IPS 8.8, the new ARC Series amplifiers will redefine how consumers enjoy music in their vehicles.
2-Channel Amplifier
Microprocessor Class-D design.
Removable Analog Front End Input Stage
Designed and Engineered by Robert Zeff.
Adjustable Frequency Class D Design For Improved Signal Transparency And Overall Sound Quality While Reducing The Possibility Of Interference And Noise.
Remote Bass Boost Control (Included).
Cast Aluminum Chassis Design
Full Range Amplifier Design
Single Side Connection Design.
Nickel Plated RCA Terminals.
Quick Disconnect Speaker Terminal Plugs.
Audiophile Class D Output Filter Networks.
Detailed Micro Processor Controlled Protection.
Large, High-Frequency Switching Power Supplies.
Balanced Differential RCA Inputs Are Compatible With Hi-level Inputs.
Fault Codes Storage Of The Last Protection Code Detected.
High Signal To Noise Ratio Without Compromising Power Output.
Ultra Low ESR, High Capacity Power Supply Storage Capacitors.
Next Generation High-Speed Class-D Technology Powering All ARC Series Amplifiers.
Bridged Mode Auto Detect Turn-On Works With Most Chip Based OEM Headunits.
Compatible With The IPS8.8 Integrated DSP Module Solution (Sold Separately)
Precision Filtering Isolates The Power Supply Reducing Unwanted Interference In Radio Reception.
Block Type Terminal Connections.