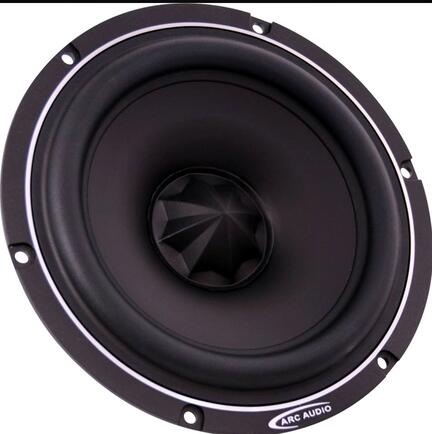 ARC AUDIO RS 6.0
4.129,00 kr.
Varenummer: RS 6.0
Speaker Size 6.5"
Speaker Type Midrange -Raw Driver
Power Handling (Peak) 200 Watts
Power Handling (RMS) 80 Watts
Frequency Response 50Hz - 9.5kHz
Sensitivity 91.5dB
Impedance 4 ohms
Basket Material Cast Aluminum
Cone Material Composite Papyrus filled Paper
Surround Material Low Shore Rubber
Spider Material Synthetic Progressive Nomex
Motor Structure Multi-Step CNC Precision cut
Copper Shorting Ring Yes
Voice Coil CCAW
Mounting Depth 2.75"
Cutout Diameter 5.812"
Maximum Outer Diameter 6.654"
Mounting Flange Thickness .184"
Grills Included No
Designing new a speaker is no easy task. Designing an entire series of speakers with the intent of redefining the reference for clarity and detail is even harder. After months of development, tooling and testing, ARC Audio proudly announces the new RS Series of component speakers. The Reference Series includes four brand new premium transducers, each designed with a no-holds-barred approach to sonic perfection.
In the same way that our Signature Edition amplifiers have set the benchmark for system amplification, RS Series speakers offer performance that brings out the subtleties and nuances in your music. When integrated into your system, instruments will sound more realistic, voices will sound more natural, and the sheer dynamics of your music will simultaneously impress and startle you. Designed for today's active DSP based aftermarket and OEM replacement systems the RS Series exemplifies the focus of quality and detail without having to mortgage your home to obtain it.
Available in matched raw sets only, the RS series is available in 3", 4" and 6" platforms accompanied by an elegant cast audiophile tweeter. The RS1.0 Tweeter is the perfect complement to matching with the RS 4.0 or RS 6.0 for a stunning of revealing 2-way active component system. Bring the RS3.0 into the picture paired with the RS1.0 and the RS6.0 and you now have the tools to help create staging, imaging, and tonal properties capable of finest resolution possible in a vehicle.
The RS 1.0 tweeter features a low mass, fine-weave soft dome diaphragm to transfer sound energy from the voice coil to the listener. This dome design ensures smooth frequency response from the low resonant frequency of the driver.
A high-strength neodymium magnet and custom designed motor structure powers the tweeter and provides excellent efficiency and dynamics with incredible control and tonal stability. A secondary bucking magnet further intensifies the magnetic field strength of the gap while reducing distortion during higher demand use periods. Of course, it doesn't stop there, a large copper cap on the top of the motor assembly helps to reduce inductance and distortion for incomparable detail and extremely high frequencies assuring that you get the finest sonic details across the entire listening spectrum.
Mechanically, the RS 1.0 features a solid cast aluminum tuned chamber chassis with integrated cooling provisions that allow heat to be vented from underneath the diaphragm. This large rear chamber of the tweeter helps enhance the low resonant frequency of the driver and assists in cooling the motor assembly for improved power handling over long listening periods.
Enhancing the flexibility of the multiple applications suitable for the RS1.0 the machine finished outer mounting ring is removable leaving the threaded main body housing providing additional ISO style reduced mounting diameter making it excellent for both custom and OEM speaker upgrade installations.
All RS Series Speakers Are Sold In Matched Raw Pairs Only
Audiophile Design Specifically For The Car Audio Environment
Fine Weave Soft Fabric Dome For Smooth High-Frequency Response
Vented Compact Neodymium Motor System For Improved Dynamics
Low Shore TLS Injected Rubber Surround
Flexible Long Life Lead Wires On Voice Coil
Cast Aluminum Chamber For Optimized Cooling (Non-Resonant Structure)
CNC Precision Cut Extended Copper Capped Pole Piece Assembly Minimizes Modulation Distortion And Varying Voice Coil Induction Significantly Increasing Bandwidth, Speaker Transparency and Transient Response
Precision Wound Voice Coils And A Multi-Stage Adhesive Tempering Process Allows For Improved Power Handling Even Over Ultra-High Demand Periods
All RS Speaker Voice Coils Undergo A Progressive Temperature Testing Tempering Process Increasing The Coils Thermal Rating