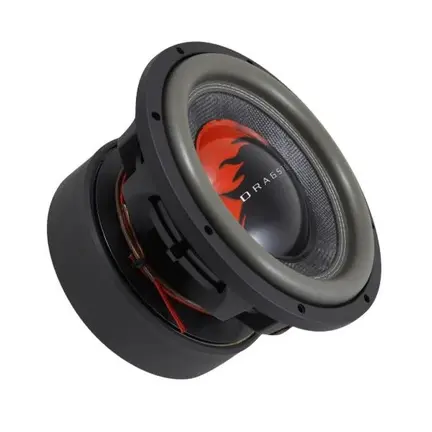 Dragster Audio Art DWX-12 D1
5.810,00 kr.
Varenummer: DWX-12 D1
The DWX series subwoofers are the perfect choice for lovers of extreme music reproduction. Either extremely low and/or extremely loud. The combination of a voice coil of 100mm (4"), an extremely powerful and lush magnet of 450 Oz gives the membrane an exceptional acceleration of over 80 G!
Main Features:
12" (30cm) subwoofer
Power: 3000W RMS
Power: 6000W MAX
Power: 15000W short time in burp up to 3s
Impedance: D1 (1x1Ohm)
Highlights:
Non compressed Kevlar fiber cone

Foam surround glued and sewn

4" DVC 1 Ohm ALU flat wire voice coil

Triple ferrite magnet with 450oz

8mm² cable directly mounted

9" center spiders (4 bearing)

Heavy duty die cast aluminum frame

Recone kit available
Technical features:
Voice coil diameter (mm (inch)) : 100 (4")

Magnet weight (Oz) : 450
Qms : 4.959
Vas (lt) : 18.718
Cms (um/N) : 46,762
Mms (g) : 352.5
Rms (g/s) : 18.40
Xmas - 1 way linear (mm) : 45
Xmas - 2 way linear (mm) : 90
Bl (Tm) : Parallel 9.465 / Series 20.761
Qts : Parallel 0.368

/

Series 0.306
Sd (sq.m) : 0.053
Vd (lt) : 7.919
Qes : Parallel 0.397

/

Series 0.336
Re (Ohm) : Parallel 0.420

/

Series 1.700
Le (mH) : Parallel 0.497

/

Series 2.139
Fs (Hz) : 37.203
Qts : Parallel 0.368

/

Series 0.306
no (%) : Parallel 0.403

/

Series 0.412
1W-SPL (dB) : Parallel 88.2

/

Series 88.3
2.8 V SPL (dB) : Parallel 101.1

/

Series 95.08
Enclosure Recommendation:
Bassfrelex

Volume : 90l
WxHxD (inner dimensions) (cm) : 85x30x35
Fb (Hz) : 70
F3 (Hz) : 48
Port length (cm) : 15
Port diameter (cm) : 20
Dimensions:
Outer diameter: 325 mm

Mounting diameter: 288mm
Installation depth : 200 mm
Weight : 27,5kg