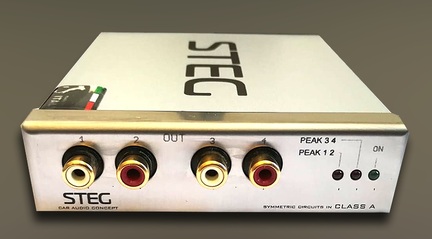 STEG CLASS-A 4 KANALS KONVERTER MED REM UD
1.448,00 kr.
Varenummer: 122900026
STEG CAC.4 Class-A Converter
Process via active signal, with Class A driving for uncompromising audio performance.
• Fully balanced input stage to improve noise rejection and response speed.
• Dual power supply for each pair of channels.
• Output load designed to adapt to the output impedance of any radio.
• Unbalanced line output to drive any type of amplifier.
• Low tolerance and high quality passive components.
• Class A operational amplifiers designed for Audio use.
• Ultra low harmonic distortion.
• Protection against power reversal.
• Ignition signal generation (remote).
• LED's Status, Green LED operating status, 2 red LEDs to indicate the output peak for each pair of channels.
• Full Surface Mount (SMT) technology.
• Small size for quick/easy optimize installation.
• 4-channel power inputs via harness.
• 4-channel Hi-inputs via harness.
• 4-channel PRE signal outputs on solid RCA connectors.
• Supports High level signal outputs on DSP and Amplifier cables with DSP.
• Professional CNC aluminum case.
• FR4 standard 4-layer printed circuit for extraordinary reliability and noise reduction.
• Signal path optimized to increase noise immunity.
• STOP-BUMP, circuit studied in the GTTrading laboratories to eliminate all the noises (bumps) during ignition.
• Supports High Power Output (B.T.L.) and Low Power Output (S.E.) radios.
• Ultra low quiescent current (less than 0.1 mA at 14 V4).
• Low operating current consumption (less than 20 mA at 14 V4).
• PRE output signal on RCA up to 5 Volts at 12V power supply.
• Output signal High Level on harness 9 Volts at 100ohm.
• Accepts input signals up to 20 Volts.
• Input stage can handle signals up to 100W with an equivalent power of 4 Ohms.